Experiment Preparation Room
The SAGA-LS facility is for beamline users. The facility is used in common with other visitors.
Consult with the management of the SAGA-LS if you feel that there is a problem related to the confidentiality of experiment content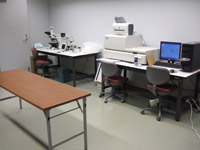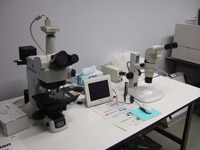 ■ The Experiment Preparation Room has the following equipment.
1. Imaging plate reader (One unit)
2. Stereomicroscope (One unit)
3. Optical microscope (One unit)
4. Tablet molding machine (One unit)
5. Precision balance (One unit)
Chemical Lab
The Chemical Lab requires a reservation to use. In principle, you can contact the Utilization & Planning Group (by phone or email) to make a reservation.
Each piece of equipment has an instruction manual that you need to read to verify usage methods and precautions.
General apparatus, supplies, and solvents (e.g. distilled water, ethanol, acetone) are available for use. Bring your own protective equipment.
It is forbidden to move or remove equipment.
■ The Chemical Lab has the following equipment.
・Draft chamber(Organic or inorganic) (One unit)

・Electronic balance (Two units)

・Water purifying apparatus (One unit)

・Dryer (One unit)

・Spin Coater (One unit)

・Ultrasound bath (Two units)
Exchange Lounge
The second floor of the experiment and research building has a lounge.
The lounge has tables and chairs, vending machines, and a television. You can use it as a refreshment space.
Internet Access
Internet access is available in the accommodation building, the refreshment space, and the experiment hall.
If you want to access the Internet, contact the secretariat to receive connection instructions.